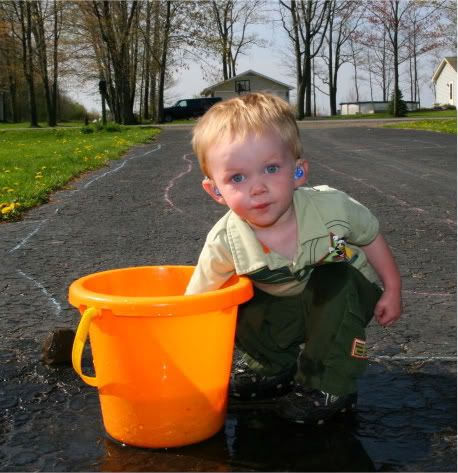 Nolan, washing rocks in a bucket. Hey, it keeps him entertained!


We have stumbled upon a new problem during speech therapy. Nolan never quiets down! He talks incessantly from the second our SLP arrives to the moment she leaves, barely taking a moment to breathe.
How can this be a "problem," you ask? Well, he never stops blathering on to listen to what the question is or to pay attention to the current activity! An example would be:
Nolan: BALLOON! Balloon! I want balloon! I see ball! I want ball!
SLP (trying to get a word in edgewise): Yes, Nolan. Can you get the blue square and put it on the peg?
Nolan: Ball! I want ball! Cow! I see cow! Doggie! Doggie woof woof!
SLP (trying to go along with Nolan): Yes, the doggie says woof woof. Can you find the BIG doggie?
Nolan: Duck! Duck quack quack. Milk. I want milk. Want cup!! Want Matt. Weeee!
He is now talking so much that we're going to create a goal for conversational give-and-take in his next IFSP. We're writing another goal for Nolan to stop and listen, and respond appropriately to questions.
I can't help but be thrilled at our new "problem." The kid loves to talk. Now we just need to teach him to stop and listen to us!